You don't have to be in Las Vegas, Monte Carlo, or Macau to enjoy hitting the casino—ladies and gentlemen, please give a very hot, very warm welcome to Spinia Casino. Think of this as an online destination; as your home away from home. Why so? Well, until you plan your annual family vacation or a summer road trip with your besties, this is where you'll be mentally vacationing.
At Spinia Casino, you can indulge yourself in exciting online games while mingling with real dealers at more than a hundred tables. That's right, there's always room for more! And if all this sounds a little too good to be true, we're here to make sure there is absolutely nothing to worry about. With that being said, let's dive into all the awesome promos you can acquire when you're spinnin' your luck.
Spinia Bonuses and Promos
With such a large range of incentives to choose from, Spinia guarantees a user-friendly experience, including a substantial initial deposit bonus. The first deposit is a 100% match bonus up to €100. Moreover, you also get to have over a dozen spins on Hotline. The second deposit, on the other hand, gives you a 50% match bonus up to €150. And yes, you once again get over a dozen spins, but this time, on Turn Your Fortune. But—and there's always a but—you have to wager the welcome bonuses 40 times before actually claiming them, and don't forget about the minimum €20 deposit!
And if you thought that was all, you're about to be surprised. You get a whopping 50 spins when depositing €40 minimum every Wednesday—now how about that! If you made your deposit, you'll have even more to claim. First, you get two dozen spins on the slot Lost Relics, which is followed by another 25 spins one day later.
Sundays are great for Spinia Casino enthusiasts because you get reload bonuses, and you may win prizes at Spinia Casino daily. If you're a regular at Spinia, you're lucky because frequent players can reap the benefits of a fantastic VIP program.
VIP Bonuses and Promotions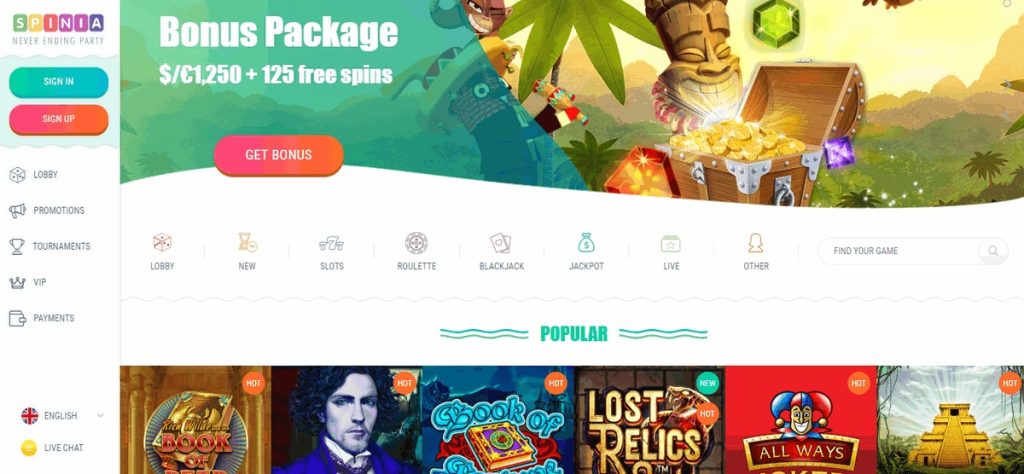 As a verified Spinia.com player, you are instantly enrolled in the VIP loyalty program. As a "Rookie," anybody can join the VIP club, no matter the financial situation. By playing on the platform, you may climb up and through several levels. With each level, you'll receive a cash online casino bonus. First and foremost, the payout is only €5. This is the point at which you transfer from "Rookie" to "Beginner."
However, as you go up the ladder, the prizes get increasingly valuable. When you achieve the "Master" level, you'll start earning thousands of euros in monetary incentives. What is the most valuable prize? Become a member of the "Elite" and receive a remarkable sum of €50,000. You will earn or accumulate VIP points in addition to getting closer to the top casino bonus offered on the platform. In fact, you will receive one point for every €20 or $24 you spend or wager.